Conference space
DrupalCamp LA 2016 will be held in classrooms in and around the Henry Samueli School at Engineering of the University of California, Irvine (note: new location from 2015).
The nearest street address is 25 E. Peltason Dr., Irvine, CA 92697. If you need driving directions, check out our Directions & Parking page.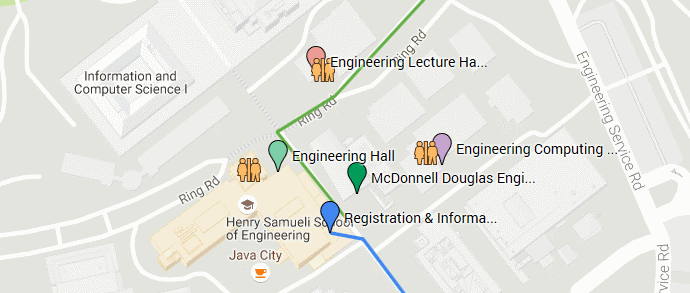 View larger map
Conference rooms
Since we're holding DrupalCamp LA at the UC Irvine campus, we'll be using smart classrooms and lecture halls for our sessions. Most rooms have a smart podium, with an in-podium PC, laptop connection with HDMI or VGA, audio hookup, DVD player, speakers, and controls for the projector screen, room lights and room sound level (exact inputs and controls vary by room).
No food or drink inside any classroom (closed water bottles allowed). No smoking allowed anywhere on-campus.
Engineering Hall 2430 Colloquia room
We'll be handling registration here, as well as vendor tables, and our help desk. This room has a smart podium with an in-podium PC, DVD player, and laptop HDMI/VGA+audio connection, along with an awesome widescreen projector. It also has cool motorized window shades, and a nearby kitchen area. Drop by and hang out.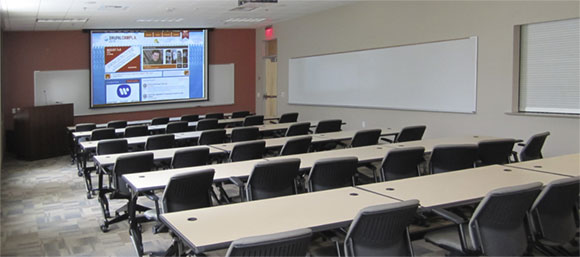 Engineering Hall 1200 (EH 1200)
This is a new stadium-style lecture hall that seats 332. It's just downstairs from the EH2430 colloquia room (where registration is held). For technology, it's got it all, including three projectors, a podium gooseneck microphone, a wireless lapel microphone, and a handheld wireless microphone for recording audience questions. Very few power outlets in the seating area.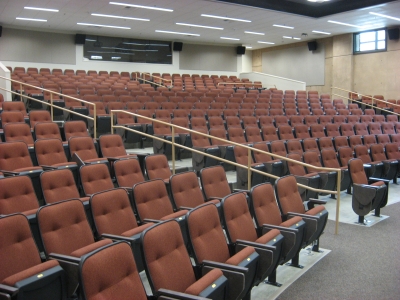 click for details
McDonnell Douglas Engineering Auditorium (MDEA)
This is a large seminar room that seats 100. It has seminar tables with a power outlet at every seat! The presentation technology is basic, just a podium with a VGA+audio cable and a (wired) microphone, so bring your own laptop and VGA adapter (or borrow one) if you're presenting in this room.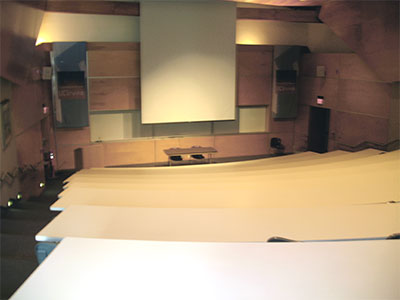 Engineering Lecture Hall 110 (ELH 110)
This is a smaller smart classroom that seats 50, with seminar tables. It's just across the campus ring road from Engineering Hall. For technology, it has a podium PC and projector with VGA hookup, but no built-in audio or microphone. There are power outlets in every row.

click for details
Engineering Tower classrooms (ET 201, 204)
These classrooms each have 32 lab seats. There are PCs on the tables but they won't interfere with seeing the screen. There's a smart podium with an in-podium PC, laptop HDMI/VGA+audio connection. We're still figuring out the microphone situation in these rooms. Power outlet at every seat.
ATMs
ATMs are located in the student center terrace area (a 10 minute walk from Engineering quad).

About UC Irvine
Founded in 1965, the University of California, Irvine combines the strengths of a major research university with the bounty of an incomparable Southern California location. With a commitment to cutting-edge research, teaching, learning and creativity, UCI is a driving force of innovation and discovery that benefits our local, national and global communities in multiple ways. With more than 29,000 students, 1,100 faculty members and 9,400 staff, UCI is among the most dynamic campuses in the University of California system.
Increasingly a first-choice campus for students, UCI ranks among the top 10 U.S. universities in the number of undergraduate applications and continues to admit freshmen with highly competitive academic profiles. Times Higher Education ranked UCI No. 1 among universities in the U.S. under 50 years old. Three UCI researchers have won Nobel Prizes – two in chemistry and one in physics. Orange County's second-largest employer, UCI generates an annual economic impact on the county of $4.4 billion.