Are you new to DruaplCamp LA? Want to get the scoop on how things work and what to see?
Join us for a quick introduction to how to get the most out of DrupalCamp LA. We'll have some recommended picks for beginner sessions, and we'll answer any questions you may have.
Note: if you are registered for the all-day beginner training, these notes will be covered there separately.
Agenda:
UC Irvine School of Engineering
Parking: $10/day, must display permit on dash
WiFi: UCInet Mobile Access - Register as a Visitor of UCI
ATMs: in Student Center plaza
Anthill Pub: in Student Center, 6PM private party sponsored by Achieve Internet
Lunch: University Center (over the Watson Bridge across Campus Dr.) 5 min walk
Lounge area: EH 2430 Colloquia room (tables, power)
Open campus, do not leave things unattended
DrupalCamp Rooms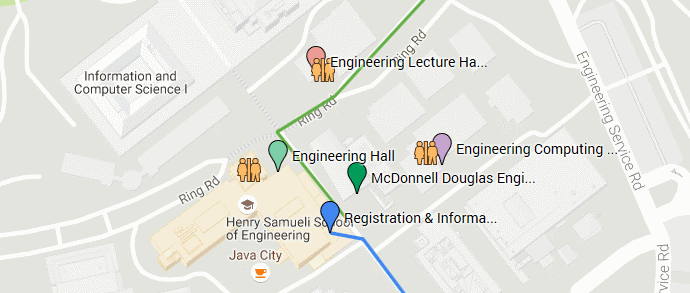 View larger map
Engineering Hall (EH 1200)
Engineering Lecture Hall (ELH 110)
McDonnell Douglass Engineering Auditorium (MDEA)
Engineering Computing Trailer (ECT 123)
EH 2430 Colloquia Room:

Registration Desk (badge pickup, check-in)
Information/Help Desk (Questions & Answers)
Coffee & snacks table (please recycle)
Sponsors (say "hi" & thank them for supporting DruaplCamp LA)

Restrooms:

Engineering Hall lobby
Engineering Computing Trailer
Engineering Lecture Hall

Schedule: subject to change, check frequently
Twitter: #drupalcampla, follow @ladrupal
Saturday Schedule
9:00a: registration, check-in
10:00a-11:00p: Morning sessions: Beginner Track
11:15a Keynote in EH 1200
12:15p-1:15p: Lunch on your own
1:45p-4:00p: Afternoon Sessions
4:00p: Group Photo & break
4:30-6:00p: Afternoon Session
6:00p-10:00p: Private Party at Anthill Pub
Sunday Schedule
9:00a: registration, check-in
10:00a-12:15p: Morning sessions
12:15p-1:15p: Lunch on your own
1:45p: Afternoon Sessions
5:30p: camp end
Sessions: skill level
Beginner
Intermediate
Advanced
Sessions: Categories:
PHP
Site Building
Design & User Experience
DevOps
Business & Strategy
Code & Development
Performance & Scalability
Questions?
All Volunteer camp, help out where needed
Help Desk (EH 2430 Colloquia Room)